I am a biologist who trained at the Universities of London and of Nairobi.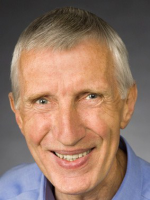 Paid work I did at both a government research laboratory in Kenya and at the University of Edinburgh. Also I worked briefly in the commercial sector: as a copy-editor of scientific textbooks, and as a survey biologist for an industrial scale pest control company. My research results were published in formal journals, about one each year, plus a similar rate for papers that I collaborated in. 
I started publishing books in 1994 with a guide to insects, mites and ticks of veterinary importance. Other similar books followed through collaborations financed by international organisations. Now my writing is for the popular science audience, specially biological topics. Currently the biology of trees and the dynamics of how people use trees is the topic that keeps me out in the fresh air searching specimens and photographs. As for guidebooks, the mountain flower guide will need updating with some better photographs of the hard-to-find species!
My wife and I live in Scotland. To relax we go amongst the forests and mountains of Europe hunting for flowers, using various guidebooks and a camera.